GRAND BEGINNINGS CHILDREN'S CENTER
There stood a child ready to take on the world.
At Grand Beginnings Children's Center your child's safety and care is our upmost priority. Our goal is for you to be completely satisfied with our program, our facilities, and our staff. We thank you for choosing Grand Beginnings and allowing us the opportunity of joining you in the loving and nurturing of your child. We want you and your child to always feel welcome and to know you are now a part of our extended family. 
If you are ever unhappy about any aspect of our program, please speak to the director of your location, regardless of how insignificant you may think your concern is. Please feel free to contact us with any concerns at grandbeginnings@hotmail.com or you may contact either of our directors: Lori (location: 339 Grandview Avenue) can be reached at (724) 463-1819 and Barb (location: 98 S. Ben Franklin Road) can be reached at (724) 463-1984. We can also be reached at our personal email at raeanndavis@yahoo.com.
James & Raeann Davis
Owners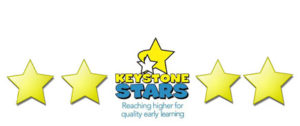 Grand Beginnings is licensed through the Department of Human Service (PA-DHS).
Grand Beginnings participates in the PA Keystone STARS Program. This program is an initiative to continually improve the quality of child care programs in Pennsylvania. Both of our centers have earned a STAR 4, which is the highest level you can achieve.
We are a Keystone STAR 4 Facility. Click below for more information.